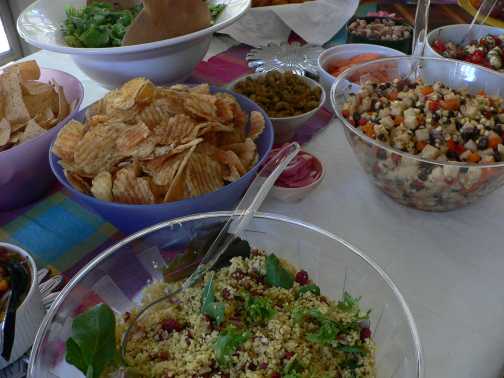 I love pot luck suppers because you get to taste so many different foods by many different cooks. So when our church held a pot luck on Saturday night to welcome a visiting minister named Pastor John Barrett from
On The Rock Ministries
in Texas who would holding an old fashioned five day revival to help us uncover our spiritual gifts, I was all for it. The lady who was in charge of the event was very organized in her planning, assigning items to ensure making sure there was a diversity of food and not just ten pans of ziti. She asked me to make a salad.
Salads are one of my specialties, and I love combining new and unusual ingredients. But that didn't seem like a very wow thing to bring, so I wracked my brain (and asked my husband) for some ideas. His suggestion was to make some kind of chicken/Waldorf theme so it could be a main meal dish instead of just a salad.
To save time, I bought a rotisserie chicken already cooked at the grocery store, but you could just as easily roast one at home. I layered the salad with all the ingredients except the chopped apples, which I placed in a separate container filled with water and the juice of a half of a lemon.
The pot luck was great fun and I got to sample some yummy crab cakes, pasta salad, oriental chicken salad, homemade baked beans, pasta with shrimp and a southwestern nacho dish. I passed on dessert, but my son Tommy raved so much about the Strawberry Cake the wife of our former pastor made that she promised to give me the recipe.
And even though I don't think of a salad as being something you would write a recipe for, enough people asked me that I decided to write it down for them. This is a great bring along dish and also perfect for a picnic.
The Recipe;
Chicken Waldorf Salad
Four cups mixed baby greens
2 cups red leaf lettuce, torn into bite size pieces
2 cups romaine chopped
1 red, yellow or orange pepper
1 cucumber
3/4 cup whole pecans
1/2 cup sliced red onion
1 whole chicken, roasted
3/4 cup crumbled gorgonzola cheese
3 Granny Smith Apples
Wash and spin greens. Put pecans in a cast iron pan and toast them in the oven at 350 for about 10 minutes or until aromatic. Slice and half peppers so they are cut into julienne size strips. Peel cucumber and slice. Thinly slice red onions. Layer the veggies in a pleasing arrangement on top of the greens.
Pull chicken off the bone and dice. Add to salad. Sprinkle gorgonzola on top. When pecans are cool add them to the salad. If you are serving the salad right away, quarter apple and remove core. Chop into bite size pieces and add to the salad. If you are making the salad ahead see tip above.
Serve with
Briannas Blush Wine Vinaigrette
dressing.